Best VPNs for Australia
The following legal requirement is effective from October 2015 for all communication (including telephone and ISP) providers operating in the Australian market: they are bound to collect and retain for 2 years extensive personal details related to individual internet activities, phone calls, text and e-mail messages in the local market. Some recent trends moved this country to the limelight of global online privacy debates. Specifically, there are eloquent statistical data gathered and reported by TNS (Taylor Neslon Sofres) in Australia for the national Department of Communications and the Arts. Among others, it states that certain illegal content is used by almost one half of all consumers. This follows from interviewing about 2.5 thousand respondents aged twelve and older. Indeed, as explained in another analytical review, this does not imply that 50% of all Australian population is a sort of desperate villains in media piracy. Quite naturally, this sad stats forced the government to promptly block all commonly used pirate websites (you can learn more about these efforts here) and proceed to the development of new legislative framework in order to protect copyright holders. However, there were some concerns that new legal norms can result in massive blocking and, thus, prejudice the civil rights and freedoms. Also, the initiatives of rule-making bodies are unpopular with the ISPs. Government wants the latter to bear at least some liability for privacy issues in the country. However, there are other research results demonstrating that the scope of piracy activities in Australia is decreasing. This can be explained, at least partially, by the availability of Netflix, the accompanying Netflix Effect and Netflix Tax. How can all these facts be interpreted from the viewpoint of privacy? No wonder that Australian government, like any other government in the world empowered with appropriate technologies, wants to know about internet activities of its citizens. It can be safely recommended for the users to protect their internet activities and, thus, private liberties with the use of VPN encryption. This review shall assist in the selection of an appropriate VPN service. Specifically, it identifies the VPNs offering Australian IP-addresses in their packages. It is handy for the use of some locally hosted services which require user presence within the country. Thus, the top VPNs discussed here have Australian IP-addresses. They offer access, as well as protection based on VPN encryption. Indeed, there is a huge number of VPNs in the market, with very different levels of service. One of the aspects to be considered is protocols:  PPTP, L2TP, or OpenVPN. Then goes price, bandwidth parameters and many other factors. Frankly speaking, SmartDNS is quite enough for the circumvention of regional barriers. While there is no encryption protection, it can be quicker for overseas media connections. Brief facts are summed up below and followed by an in-depth review with an individual discussion of each provider
VPNs for the Australian Market
It is not that hard to set up a VPN. The best providers offer downloadable clients. All you have to do is to define privacy settings, establish web connection and relax. Provided that there are no DNS leaks, everything is great. This can and shall be checked, because in the default configuration of Windows it is not guaranteed. Our rating shall arm you with general guidelines. Also you can use free trial options to confirm your ultimate choice.
ExpressVPN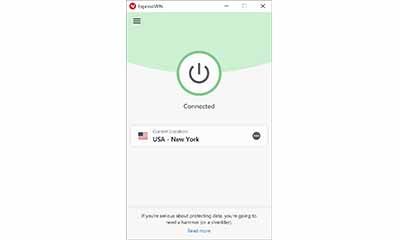 Grab ExpressVPN here
Things we liked:
Very speedy

Versatile SW

Money-back guarantee effective for one month

Awesome support
Things we didn't like:
Dear price, which is, however, well-deserved!
ExpressVPN gained its popularity as one of the first-choice VPNs thanks to convenient server locations and high speeds. Their mobile and desktop applications are user-friendly (both can be used concurrently with no extra fee), and their connections are reliable and fast. The rivals which offer lower prices simply cannot maintain the same level of support or server network reliability. Thanks to gradually introduced updates, EVPN managed to evolve from middle-level to high-ranked operator. A versatile scope of manuals confirms their customer-focused approach. Another evidence of strong customer commitment is that they develop proprietary SW to bypass filters in the Chinese market and run round-the-clock helpline which is readily available to answer user questions. In the case of one-off annual deposit, the service costs just 8.32 dollars monthly, and this is a good investment. Also, do not forget about money back guarantee which is effective for one month. Indeed, ExpressVPN is a right choice! Try the Best VPN for Australian market right now!
Buffered VPN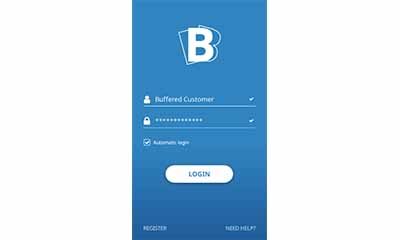 Get Buffered VPN here
Things we liked:
Speedy

Nicely-packed with great usability

Based outside the U.S
Buffered is rather a newcomer in the VPN market. However, it offers great speeds and perfect usability, maintains servers in more than dozen countries, including all major markets; the States, Netherlands, Great Britain and, surely, Australia. Their SW and web-site are nice and smart, and their commitments really go beyond a good VPN service. They strive to ensure privacy in general and look for ways to ease the burden of governmental surveillance. Buffered offers excellent SW compatible with all platforms, as well as excellent customer care which is genuinely user-focused. They maintain perfect speeds confirmed by our own tests. For those who still need more reasons, there is another considerable advantage: they base in Hungary. There are no strict legal norms here for data retention, and they are out of reach of UK or US jurisdiction. Indeed, their prices cannot be called cheap, but they are reasonable considering the quality of VPN service. Just follow the link below to sign up right now!
VyprVPN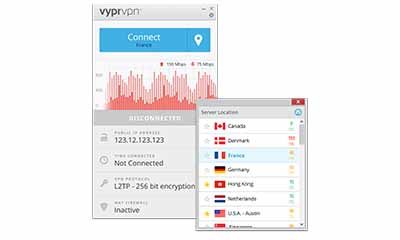 Get VyprVPN here
Things we liked:
Speedy

Encryption based on 160-bit and 256-bit OpenVPN (in Pro version only)

Application for Android

Application for iOS

Non-binding trial for three days

Three concurrent connections can be maintained

No usage logs are kept
VyprVPN is powered by Golden Frog, a global internet consortium. Thanks to proprietary data centers, they are able to maintain really fast speeds. In fact, they keep connection logs, but there are no usage logs, and P2P downloads are enabled. 160-bit / 256-bit OpenVPN ensures very strong encryption. 2 (or even 3 in the case of Premier package) concurrent device connections can be maintained. However, all these advantages only hold true for the Pro plan, which is more expensive. All that is offered in the basic version is PPTP. Also, please bear in mind that VyprVPN is based in Switzerland, and all customer data is kept there, being inaccessible for the National Security Administration in the U.S. or the similar authorities in the EU.
IPVanish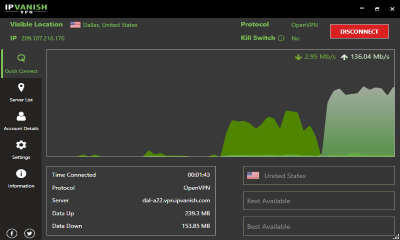 Grab IPVanish here
Things we liked:
No logging

Excellent security

Speedy

Well-balanced price/performance ratio
IPVanish is in the market for about 15 years. They operate one of the best top-tier industrial networks, in other words, maintain fantastic speeds, and have severs in several dozen countries. Thanks to security updates which were introduced recently, they can follow zero-log policy, offer shared IPs and handle Bitcoin payments. IPVanish offers low prices and, considering the level of service, perfect price/performance ratio. It can be safely recommended for the price-concerned users who still want to have high speeds, high security levels and no log records. Indeed, their dedicated client offers fewer features, but server speed/location sorting options are available, as well as regular IP refreshes. UI is simple and easy-to-understand. Considering a VPN provider based in the U.S., it is required to bear in mind that no privacy of internet activities is ensured in this country. There is extensive surveillance, and some online privacy services cannot be called adequately safe. Clear advantages of IPVanish are that it follows zero-log policy and accepts Bitcoin payments to ensure anonymous signup with the use of a special procedure. Indeed, IPVanish is a decent choice.
NordVPN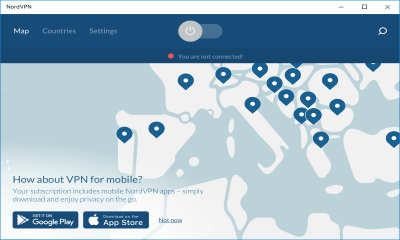 Get NordVPN here
Things we liked:
No logging

Panama-based

Accepts Bitcoins

Applies double encryption

Tor over VPN

Encryption based on 256-bit AES

Shared IPs are maintained

P2P
Things we didn't like:
Speed losses due to double encryption
Panama-based NordVPN can be suggested as a highly secure service. They do not keep logs and, thus, simply are not in a position to disclose information to the authorities (considering that they base in Panama, disclosure requests are unlikely anyway). Thanks to double VPN, before any web-connections are established the information can be encrypted and transferred to Austria-based server, then encrypted again and forwarded to another server based in the Netherlands. This ensures a high level of online anonymity and security. User activities are scarcely traceable thanks to double encryption, Tor over VPN, shared IPs and zero logging.