Five Best VPNs for the USA
Despite the declared civil liberties implying, among others, freedom of online activities and publications, the facts revealed by Edward Snowden and at WikiLeaks clearly demonstrate that each and every person is under the close supervision of the state. Another aspect is tight control over copyright infringements promoted by show business. Thus, privacy concerns confirm the relevance of protection tools, including, among others, VPN services. This article gives an in-depth review of VPN operation in the States and the selection of the best possible domestic/international VPN operator. First of all, we will consider the best providers for the North American market because this paper is focused on VPN use by the U.S. residents. Great news for those living in other countries and wishing to use U.S. services, like Hulu (a local version of Netflix) or Pandora, is that almost all VPN providers have international exposure. It's just enough to select the best general provider in line with applicable requirements. In-depth comparative review of all providers is presented below.
ExpressVPN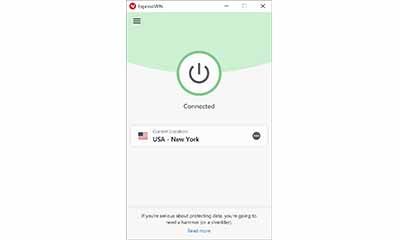 Buy ExpressVPN here
Things we liked:
Easy to use

Speedy

Versatile
Things we didn't like:
Higher (though quite acceptable) cost
ExpressVPN is a preferential choice: the best VPN in the U.S. market for local users and those coming from abroad. Thanks to its presence in almost 80 countries and lots of available IP-addresses, it is accessible wherever it might be required. They offer great round-the-clock user support and universal collections of easy-to-read manuals. Their SW is compatible with all operating systems, including Windows, Android, OSX, iOS, and new improved versions are deployed on a constant basis. Monthly fees range from 8.32 to 12.95 USD depending on payment method: 1-year deposit or monthly instalments. Indeed, there can be cheaper VPN services, but excellent speed and quality level are worth this price. This service can be tested under non-binding terms thanks to a money-back guarantee effective for 1 month. Follow this link to sign up to ExpressVPN right now. This will be your right choice. The Best VPN for American market available right now!
VyprVPN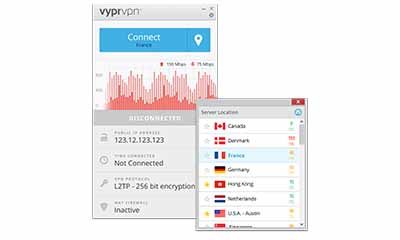 Download VyprVPN here
Things we liked:
Speedy

Encryption based on 160-bit and 256-bit OpenVPN (only in Pro version)

Application for Androids

Application for iOSs

Non-binding trial for three days

Three connections can be maintained concurrently

Zero logging
VyprVPN is powered by Golden Frog. It is a multinational Europe-based consortium with headquarters in Switzerland. Thanks to this, they are not bound to follow the laws which are mandatory in the U.S. or UK. VyprVPN offers excellent encryption based on 160-bit / 265-bit OpenVPN. Two devices (or even three in Premier version) can be connected at a time, and there is an option of non-binding 3-day trial. For those who still need more, there are applications for iOSs and Androids. On the top of all that, they maintain own networks and data centers and, thus, can offer almost unparalleled speeds and latencies.  Among others, this is an important consideration for video streaming. The last but not the least is that they offer Chameleon, a proprietary communication protocol allowing unanimous use of VPN: another important consideration to use this service in countries with extensive censorship. The only (though slight) disadvantage is its rather dear price. However, it is well-balanced considering the level of quality. Get acquainted with VyprVPN, one of the best VPN the American market.
Mullvad VPN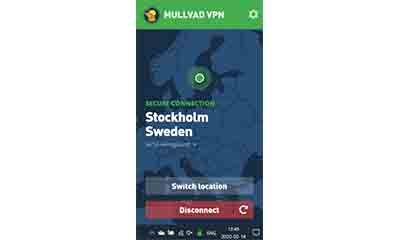 Download Mullvad here
Things we liked:
Bitcoins are welcomed

Zero logging

Speedy

Inexpensive

Protection against DNS leaks, kill switch and other convenient features

P2P allowed

Three connections can be concurrently maintained
Things we didn't like:
Weak encryption, German-based servers shall be avoided
Mullvad is another option to be considered out of the reach of the U.S. privacy laws. Mullvad is a small company. It offers great clients for Windows, Linux and OSX and convenient features, including, among others, kill switch, port forwarding, protection against DNS leaks, and server load details. Having its headquarters in Sweden, Mulllvad follows log-free policy, utilizes IP sharing and offers convenient payment options: Bitcoins or even cash transfers.  128-bit encryption cannot be called too strong to withhold the might of National Security Agency or the like. Taking in account the weird German legal practice in the spheres of copyright and privacy, it is recommended to avoid German-based servers. Mullvad servers opened in the U.S. received somehow controversial feedback, but one can avoid these servers as well, and strong commitment of Mullvad to the privacy of their users deserves appreciation.
LiquidVPN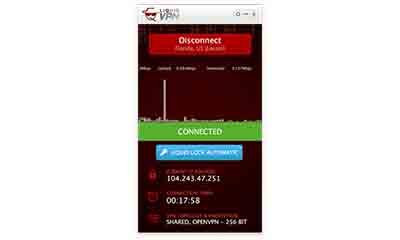 Download LiquidVPN here
Things we liked:
IP modulation (sharing)

Powerful 256-bit encryption

Zero logging

Great client with script customization options

Inexpensive basic package

In Pro version, four connections can be maintained at a time

Port forwarding is maintained

Stealth server

P2P allowed
This new innovative American provider introduces revolutionary changes in VPN operation. For instance, they pioneered the so-called modulating (continuously changed) IPs. With them, online activities are almost non-traceable. Their VPN client is easy-to-use, with many customization options and script support for (just to name a few) Close Program on VPN Disconnect, Disable Internet on VPN, Fix DNS Leaks. Higher security (at the cost of lower speed) can be obtained through the server connection with a second TLS key. LiquidVPN utilizes strong 256-bit encryption and follows log-free policy. LiqudVPN is among a small group of U.S.-based providers which allow P2P downloading. American domicile means that it is under the tight surveillance of NSA, but its privacy commitments are strong and solid.
IronSocket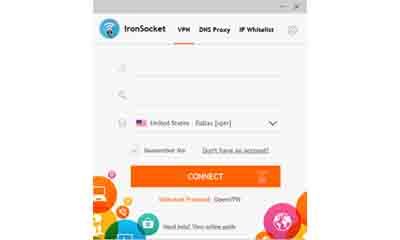 Download IronSocket here
Things we liked:
Zero logging

256-bit AES OpenVPN encryption

Speedy

Servers operate in almost 30 countries

IP sharing

Bitcoins are welcomed

Based in Hong Kong

Money-back guarantee effective for a week

Three connections can be concurrently maintained

P2Ps are allowed
Things we didn't like:
Rather detailed connection logs
Ironsocket is perfect for those U.S. residents who worry about their privacy and which to deal with a firm operating in a liberal country: Hong Kong is one of such locations. IronSocket utilizes IP sharing and 256-bit AES encryption, and welcomes Bitcoins for the anonymity of payments. It operates servers worldwide and can maintain up to three concurrent connections. Indeed, they keep connection logs (with no usage logs), but thanks to their jurisdiction the consequences are not that strong.
Censorship and Surveillance in the United States
Facts revealed by Edward Snowden demonstrate that many Americans are closely monitored by the NSA in the U.S. without appropriate justification. This surveillance extends to internet activities, instant and mail messages, phone and VoIP calls. Indeed, some formal legal remedies against such surveillance exist for the citizens, but they are avoided with ease when information is transferred outside the U.S. (remembering that the NSA is exempt from the provisions of Foreign Intelligence Surveillance Act) or simply ignored (recalling the case where the NSA blatantly cut into the mainstream communication between the data centers of Google and Yahoo). These is another trick: so as not to get it hands dirty, the NSA engages for data collection a foreign partner, for instance, Government Communications Headquarters  (GHCQ) in UK which is not bound by legal restrictions. After that the NSA is free to use this information, because formally it did not act as a collector and, thus, bears no legal obligations. Indeed, the NSA makes certain efforts for the protection of personal data, but insists on its right to gather metadata (including, among others, phone call timing and routes). Huge efforts are taken as well to demonstrate and confirm that these privacy infringements related to metadata collection are inconsiderable, despite the fact that it reveals lots of sensitive personal details. If this information is useless, why is it gathered by the NSA? Thus, it can be confidently assumed that the NSA in the U.S. closely monitors all Internet activities. While Edward Snowden revealed specific practices followed by the NSA, it is very likely that surveillance is performed at other federal and local government and law enforcement levels. As demonstrated by actual evidence, the NSA, apart from its activities aimed to protect national security, passes information related to criminal activities to, say, Drug Enforcement Administration and other law-enforcement agencies.
Observance of copyright legislation, including Digital Millennium Copyright Act (DMCA)
According to the Digital Millennium Copyright Act (DMCA) which was put in effect back in 1998, any copyright infringements are subject to criminal prosecution, including attempted circumvention of copyright protection measures and, among others, the Management of Digital Rights, even in the absence of actual copyright infringement. The Notice of Takedown is the best known measure applied in the scope of the DMCA. This implies that, having received a valid proprietor's complaint referring to intellectual property rights infringement, a VPN or a ISP provider enjoys legal exemption provided that it "responds expeditiously to remove, or disable access to, the material that is claimed to be infringing". All concerned ISPs shall apply staggered measures against identified offenders in the scope of Copyright Alert System which was put in effect in early 2013. These are the following ISPs:  AT&T, Cablevision, Comcast, Time Warner Cable, and Verizon. There are a number of stages ranging from several warnings (up to 6) to mitigation in the form of restricted access or lowered speeds. ISPs can receive requests for individuals identification from agencies acting on behalf of show business and the like, including trolls, for the purpose of prosecution under the DMCA. Resulting losses can be huge.
VPN providers based in the U.S.
VPN is an efficient tool to avoid disclosure of one's online activities to ISPs or authorities like NSA. Theoretically, this is a great tool, but due to the pressure from American legislative and political forces, VPNs are not so effective in the U.S. Indeed, there are no mandatory legal rules in the country to govern data retention. However, in the cases where VPN providers or ISPs retain any customer data, including log keeping, subject to Stored Communications Act this information shall be disclosed upon an official order received from competent authorities. Then, if concerned individuals are identifiable for these authorities, VPN providers can be forced to track his/her internet activities for a certain period. Also, there are the so-called national security letters issued in the scope of the anti-terrorist Patriot Act. Upon receipt of such a letter the provider cannot inform the customer that he/she is under surveillance. Also, National Security Agency actively endeavors to undermine encryption standards applied to online activities so as to get access to all user data. NSA is powerful enough and possesses resources required to force such disclosure by major U.S. high-tech companies. Taking this in account, it appears just natural that the NSA puts active pressure upon VPNs providers undermining the major objective of their operation: ensuring user privacy. If their espionage activities extended even to the innocent users of Angry Birds and World of Warcraft, the VPN providers' chances are close to zero. Another aspect is that, according to the Patriot Act, U.S.-based firms can be forced to disclose data located and stored abroad, on their overseas servers. This means that there is no protection against surveillance practices. The framework of copyright enforcement is a little bit better, because almost all American VPN providers do not allow any P2P downloading and fully support show business to ensure DMCA compliance, including customer data disclosure. There are a number of reasons to pursue this strategy:
Their cooperation with the government and observance of relevant requests helps to avoid long and expensive court processes. Having identified individual offenders, they are no longer responsible for their activities.
ISPs are worried that, being charged with illegal activities or copyright infringements, their VPN access can be discontinued.
Essentially, they also want to be protected from legislative amendments with retrospective effect. It's not enough to obey the current laws; good anticipation is a must too. Just recall the story of LimeWire accused of "inducing infringement" which was not a crime at the time of relevant "offence".
There are some exceptions, though, most notable being Private Internet Access, LiquidVPN, and TorGuard. They aren't obeyed to keep logs to avoid liability under the DMCA or protect the right of the users for unrestricted internet activities. These are great providers for those who are not particularly concerned about the NSA's surveillance practices, but for others it is worthwhile to consider an overseas provider and overseas servers.
How to choose a provider outside U.S.
If you are concerned about your rights and freedoms and do not want to be under the NSA's supervision, you should opt for an overseas provider. Select either a location with solid legal framework of data protection, for instance Europe where the Data Retention Directive was dismissed, or, a region there such a legal framework is loose, like Hong Kong which rather inaccessible for the NSA. It still can be argued that overseas the Americans who use services of U.S. firms cannot rely on the legal rights or remedies existing in their country, however weak or ineffective they can be. Another sad truth is that, should it be strongly needed, the National Security Agency can reach everyone, and VPNs cannot be a real help here. Avoiding the use of U.S. companies' services wherever possible is the best way to escape from ubiquitous supervision of the National Security Agency, considering its extensive resources and activities in undermining all internet security aspects. Most VPN providers opt for such locations abroad where the attitude to copyright infringements is more liberal. There is a common practice that P2P sharing is prohibited on the U.S. servers to avoid prosecution under the US copyright laws.