Are VPNs Worth It? 4 Strong Arguments That Will Help You Decide
---
The internet is still in its infancy, and as a result it can be an unsafe place at times. At any given moment, your information could become exposed to hackers, governmental bodies or passed on from tech companies to the highest bidder. However, despite its clear flaws, the internet has also evolved in a relatively short space of time to become an essential part of life. So wouldn't it be great to have all of the perks of the internet without the issues revolving around privacy?
Virtual Private Networks (VPNs) can act to provide the levels of privacy you need to help use the internet in a much safer manner, but what exactly are they? And how exactly can they help when browsing online? Well, VPNs are a network system that operates away from the internet, which provides a greater level of security and encryption that's designed to keep your information and identity safe when online.
As for the uses of VPNs, let's take a deeper look into four strong arguments that can help you to understand the true value of utilising Virtual Private Networks:
1. Greater Levels of Data Security Online
Today, the internet has become so unsafe that users are largely no longer shocked by the fact that governmental bodies, service providers, marketers and hackers alike all around the world aim to access your online browsing, habits and actions. Adopting a VPN helps to counter this by masking your IP address and establishing an encrypted passage between you and the data you create whilst on the world wide web.
The primary function of a VPN is to act to secure your connections online and encrypt your data. By picking a good VPN provider, you can access high-quality privacy protection features that can ensure your data and location remain obscured from nosy people with bad intentions.
By masking your IP address, VPNs help to keep your location safe – they also allocate a new anonymous IP address, meaning that your activities can't be traced back to you. Additionally, encryption protocols accessible through VPNs can encrypt your data in a way that makes it virtually impossible for governmental bodies, hackers, anyone, to work out what you're up to online – which is great if you're sharing highly personal information or are working with confidential data.
2. An Ideal Remote Work Companion
The COVID-19 pandemic has led to an unprecedented rise in the number of remote workers operating away from the security of office-based servers online. LAN-based servers generally offer some form of protection against the exposure of sensitive work-based data online.
As more of us transition to a brand new form of working outside of the office, it's possible to utilise VPNs as a means of connecting to your office network and work remotely. By doing this, it's possible to gain access to all of the confidential information that you require without having to leave the house. What's more, is that confidential work data accessed remotely via a VPN is automatically encrypted as it travels to your home computer.
While corporate VPNs can be a great way for employers to help their workers to securely access office servers, it's also possible for employees to utilise VPNs of their own accord to ensure that the work they produce is safe from prying eyes while on the go. For instance, if you enjoy working in coffee shops or other public spaces, VPNs can act to protect your data in these highly unsecured locations where anybody can jump on the same WiFi connection as you.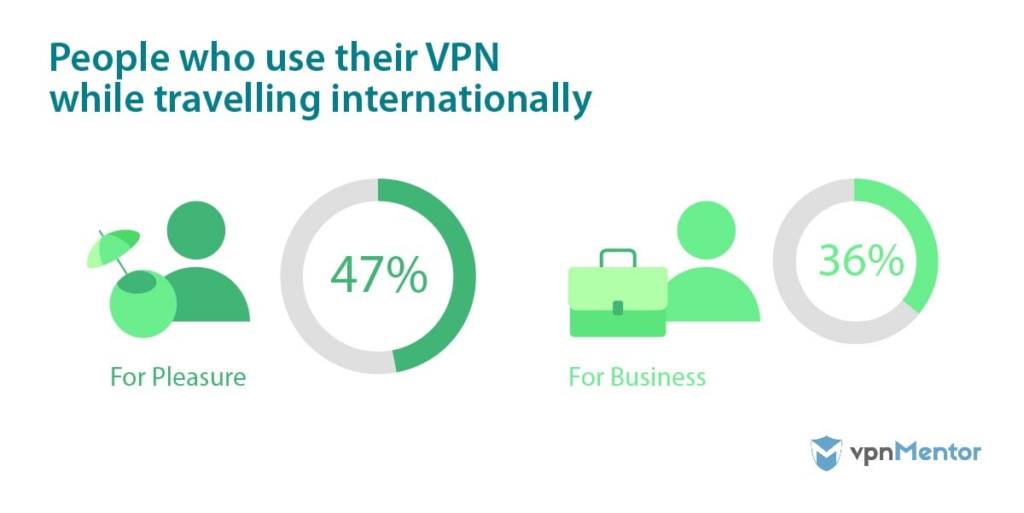 (Image: vpnMentor)
As the chart above shows, more people are beginning to tap into the power of VPNs when travelling internationally for both work and pleasure. This enables users to log into any local WiFi network – whether it's at the airport, hotel, or any other location safe in the knowledge that their data will remain safe.
3. Get More For Your Money Online
We've discussed the great benefits that VPNs carry in terms of protecting the privacy and confidential work, but one of the biggest perks of VPNs when it comes to personal usage comes in the form of the money that users can save in accessing restricted content and getting better deals online.
To better understand the sorts of deals that VPN users can inadvertently access we can look at the example booking holidays. Because many airline operators and hotel firms use cookies to set up dynamic pricing for their tickets and bookings, users who keep returning to booking pages can find the prices of a flight or a two-night stay being hiked up automatically. However, with the help of a VPN, your anonymous connection means no such user profiling can take place – allowing you to take advantage of lower prices.
Perhaps the greatest advantage of having a VPN set up for personal use is the unrestricted content that you're capable of accessing. For instance, one of the best examples of this comes in the form of Netflix, which only allows users to see content based on their geographical location. However, through the use of a VPN, you can trick Netflix into opening all of its content up to you without such restrictions – aiding your monthly subscription fees to go much further.
Importantly, VPNs also help users to access content that would otherwise be restricted. This may be of particular importance to users in nations that have more stringent internet censorship laws.
4. You May Also Experience Greater Speeds
Although it's important to state that VPN's won't make your internet perform at a quicker pace – after all, adding such comprehensive layers of encryption won't naturally speed the transition of data up – they certainly can help users to avoid getting speed throttled.
Depending on your location, net-neutrality legislation, and the actions of your internet service provider, you may unknowingly be the victim of speed throttling – where your access to content is intentionally slowed down in order to save on money.
Studies have shown that many large mobile phone providers have been guilty of undergoing speed throttling for streaming apps like Netflix and YouTube without the knowledge of the user.
VPNs offer a great way of bypassing speed throttling by establishing an unrestricted connection between you and content that's encrypted. This means that, although VPNs generally don't speed up your connections on their own, they can put a stop to other services deliberately slowing your access to content down – which can potentially be extremely advantageous to users.
The use cases for VPNs are only expanding as the world moves away from the COVID-19 pandemic and more towards an independent, remote work-based environment. With the help of Virtual Private Networks, users can not only work and play in the comfort of privacy, but they can also make their money stretch further online and also bypass factors that could be slowing their connection down. With this in mind, VPNs are beginning to transition away from being a tool that's infrequently used to being a long-term companion for internet users around the world.