5 Best VPNs Available on Google Play Store
---
As we continually rely on technology to get us through the day, we sometimes overlook the danger of being online. However, a simple search on an open public wifi network could, in fact, be dangerous, giving unwanted individuals, such as hackers and cybercriminals access to some of our most delicate and personal information.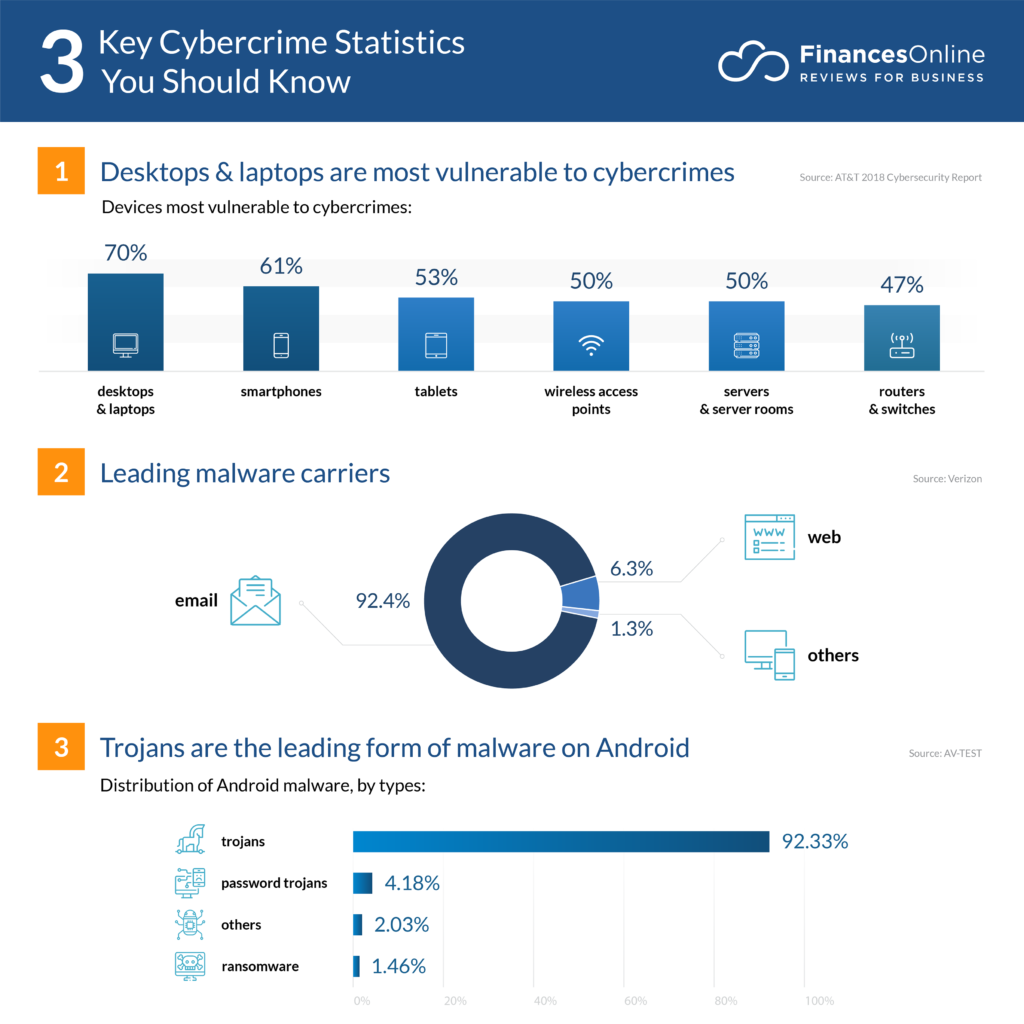 (Image Source: Finances Online)
The internet has become a big part of our lives, and because of this reason, we need to pay more attention to how we look after our data online. VPNs are a great way to ensure safety when surfing the internet, and there are many VPN providers out there that can do just that. But there are also many fake and dangerous VPN apps available for Android devices. 
A trustworthy VPN is one of the only ways to help protect smartphones in today's world. Unfortunately, the Play Store has over 200 VPN listed apps, making it hard to pick the right one. Here is a look at 5 of the best VPNs available on the Google Plate Store today, but before we get into that, take a look at VPN are and why you need one.
What is a VPN?
To securely connect a network to the internet, users need to sign up to a VPN service provider that helps to hide an IP address. Before jumping online, users will need to log into their VPN provider app. Doing so will help hide their data from their internet service provider (ISP) and any other parties like the government and hackers.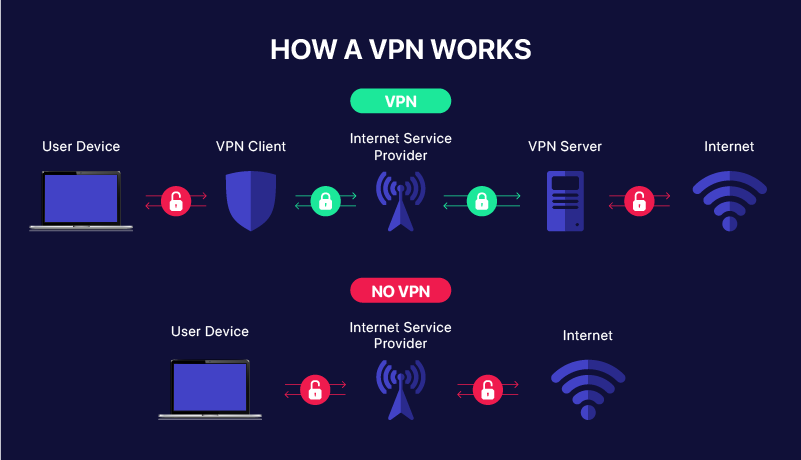 (Image Source: VPN Pro)
This means when users click on downloadable content, the ISP will not be able to see the user's original IP address, but rather the VPN IP address will show instead. All the data is connected from the VPN to the device through a tunnel, allowing it to transfer data securely through a VPN tunnel which masks all activity.
However, in most cases, simply masking the data is not enough protection. For this reason, VPN service providers encrypt the data, scrambling it into illegible information. Doing this offers users the guarantee that the data is safe, making it impossible for online criminals to understand, even if they get their hands on it.
Introducing this level of protection to any online activities creates an unbreakable and secure barrier between VPN users and hackers, governments and cybercriminals. Most VPN service providers have protocols that all have different protection levels, which is why it's essential to consider the type of tunnelling protocols that work for the activities the user would be conducting online. 
5 of the best VPNs available on the Play store
1. ExpressVPN
ExpressVPN is one of the fastest tested Android VPN apps available on the play store. It boasts a relatively straightforward set via the Play Store or a secure APK download. The app is user friendly and has unmatched features and speed. The service included over 3,000 high-speed PSP enabled servers varying over 90 countries worldwide and is one the best VPNs to choose for torrenting and streaming on Android devices. 
The system uses OpenVPN, which is one of the best tunnelling protocols. It also has a zero-logs policy and an internet automatic kill switch. In addition, it offers DNS leak protection and has the ability to offer split tunnelling. This means that any data that is sent or even received over the internet via ExpressVPN will be secure, even when connected to a public WiFi.
2. CyberGhost
Across over 91 countries, CyberGhost operates 7,300 high-speed servers. Its in-built streaming profile allows users to unblock many popular streaming sites such as Netflix, Amazon Prime and Hulu. The service also comes with a dedicated torrenting profile. Their app, unlike some of the others on the play store, is quite innovative and has a one-click installation which makes it one of the best apps for those who are just getting used to the idea of using a VPN. 
(Image Source: VPN Mentor)
Like many others, it also offers 256-bit encryption and an automatic kill switch. It does not log user activity, and one of the best features about the app is that users are able to set the app to connect as soon as their devices are turned on. This feature makes it even more secure as it eliminates human error. It can be easy to forget to log into the VPN before browsing the internet, especially when trying to find information in a hurry. CyberGhost also has a 24/7 live chat which helps to answer technical questions.
3. Private Internet Access 
PIA is one of the most popular choices for Android VPN and has more than 1 million downloads. Like many other VPN service providers, it protects devices with 256-bit encryption and an automatic internet kill switch which can come in handy whenever the user detects any type of illicit behaviour. The app offers 128-bit encryption by default, which means users will need to select the higher level of encryption manually, and it also keeps no logs, making it secure. 
The PIA MACE feature is one the best at tracking suspicious activity and can be used as a malware blocker. It can especially be suitable for streaming which, when coupled with fast high speeds, servers can, without a sweat, unblocked many of the popular streaming sites.
4. VyprVPN
VyprVPN is one the most put-together VPN services and offers users most of the security features expected and needed from a VPN service provider. What makes it great is that it is all packed into a user-friendly app. Again, like most other VPN service providers that offer 256-bit encryption and DNS leak protection – it does not log users or activity and has an automatic internet kill switch. 
Under deep packet inspection, Chameleon technology scrambles the OpenVPN metadata, which helps mask users' online activity to look like regular traffic. Using OpenVPN is also one of the best tunnelling protocols that can be used. The VPN allows users to access restricted content in countries such as Russian and China without detection. 
5. ProtonVPN
As a free plan for Android devices, ProtonVPN is one of the few free, trustworthy VPN apps. The app has over 1 million downloads and some of the best reviews. Although its free plan is a limited version of its premium plan, which is connected to 1,250+ servers across 54 countries, its app can be used across ten devices and utilise 256-bit encryption.
ProtonVPN does not keep logs and works on an OpenVPN tunnels protocol. Its SecureCore server routes traffic through a range of multiple servers before leaving the network, which helps to make sure data is safe and secure.